Carter-Ruck To Sue Everyone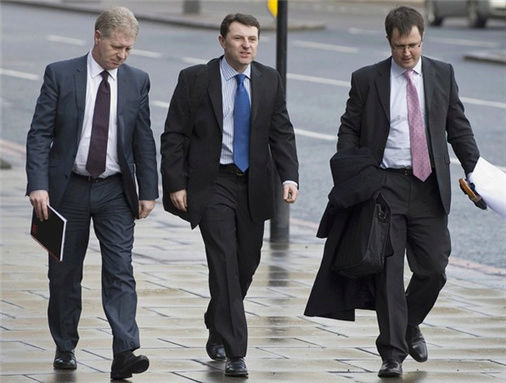 The UK's most-feared LAW firm Carter-Ruck is to send you a letter telling you to shut it right now or they will have your house.
The lawyers acted after Gonçalo Amaral, Tony Bennett, and millions of bloggers, Twitter and Facebook users willfully ignored a legal bid to suppress information about their clients Kate and Gerry McCann and their decision to ruin everyone who questions them.
One injunction, brought against Gonçalo Amaral who victoriously won an eight year libel battle over his book 'The Truth of the Lie', was reinforced last night after the McCann couple were notified that he was looking for a UK publisher. The family spokesman Clarence Mitchell warned "Beware, our lawyers are watching you!" if he tries to sell his books in the UK.
The McCanns have now decided it would be more beneficial to try and intimidate everyone with a computer.
The injunctions will be posted later this week to everyone in the UK, although Carter-Ruck have also threatened to sue every postman in Britain if strike action affects their delivery.
DHL will be used to deliver injunctions to the postmen, but if anyone from DHL looks at the addresses then they will be sued and its injunctions will be delivered by UPS who will also be sued and have its injunctions delivered by Federal Express.
Senior partner Adam Tudor, said: "I have taken advice from myself and will see absolutely everybody in court later this month. As a precaution, I have also taken out an injunction preventing you from telling anyone that I told you that I would see everybody in court and an injunction preventing you from telling anyone that I told you about the previous injunction. And so on."
He added: "As for Kate and Gerry McCann, our clients have stated consistently that they only ever intended to conceal Madeleine's cadaver, fake an abduction, obtain monies under false pretences, and pervert the course of justice in a perfectly legal way."
Daily Mail journalist, Tracey Kandohla said yesterday: "NHS doctors Kate and Gerry, both 48 from Rothley, Leicestershire, pay for this extremely costly service when needed from the Find Maddie Fund, which is made up of public donations and proceeds from Kate's own autobiography Prosecution Exhibit1 'madeleine' published in 2011."
Furious heart doctor Gerry McCann said: "I am hacked off. I strongly believe in Freedom of Speech for anyone who can afford it but I draw the line when people keep quoting facts from the official Portuguese Police files that Madeleine died in the apartment and we concealed her cadaver. These people need to be made an example of and we have people."
Furious former GP Kate McCann said: "Being a good Catholic I have forgiven the abductor, but this has gone too far now and I want everyone to be miserable and feel fear."
In the meantime, the McCann's government-appointed spokesman, Clarence Mitchell said: "Anyone who wishes to donate to Kate and Gerry's Litigation Fund can send money in an envelope marked 'Kate and Gerry McCann, Rothley' - it will get there, and they will do their utmost to sue you."
A Twitter user said: "OMG, it is outrajus dat da
#mccanns
cant pay their mortgage wiv the OFM Fund while having to su evry1! Feckin ejits!"
jillhavern for cmomm online